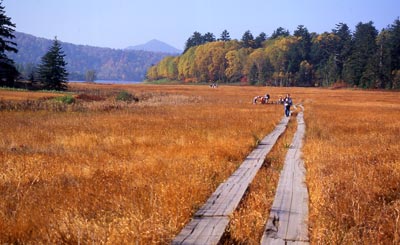 Oze, the most famous lake that all Japanese know. It has many indigenous alpine flowers and plants. In spring, white skunk cabbage spreads in the entire space of this huge lake. In autumn, green grassland turns in to gold and shins like a golden carpet.

The characteristic of the Lake Oze is not only the plants, but also how it is maintained and preserved.

Cars are all strictly regulated and only public transportation is allowed to enter this park. Also, all the path is maintained by wood trails so that tourists don ' t trample plants and soil. Sewage disposal facilities are well maintained too, and after sewage is cleaned up, it is drained to a liver through a long pipeline.